Sindhi Breads are a variety of flatbreads that a Sindhi family cooks day to day. Here these have been served together to form a breakfast platter.
Sindhi's are equally fond of their breads and rice. We have a large variety of both in our cuisine. When we talk of flatbreads the most popular is the Sindhi Fulko . I have already made a special post on this melt in the mouth roti or chapati as you might call. The Sindhi Fulko can be enjoyed with your daily curries and side dishes.
Sindhi Koki is another flatbread which is loved by our community. We have the basic Koki with salt and pepper, a Masala Koki, a Besani Koki, a Chawaran ji Koki. What are Koki's ? These are flatbreads where the flour is shortened and the dough is formed. The koki's are made with this dough, they are generously smeared with oil or ghee. Perhaps you can call these a thicker version of paratha.
Talking of Parathas we have a number of typically Sindhi Parathas. Dal jo Fulko, Moongan jo Fulko, Gobhia jo Fulko ! The variety is enormous And I am yet to post many of these.
For today I have made a platter of Parathas and Cheelas. We call parathas as Fulko / Phulko and cheelas as Chilro ! The accompaniments to these Phulkos are curd or chutneys, while with chilro we normally serve ketchup. For today's platter, I have three Phulkas –
Dal jo Phulko  is a stuffed paratha and is stuffed with yellow moong dal.
Moongan jo Phulko –This paratha is stuffed with whole moong beans.
Chehro Phulko is a basic paratha with salt and chilly. It could be red chillies or black pepper depending on the individual choice.
Next, I have two Chilras –
Besan jo Chilro is a chickpea flour cheela, with onions, tomatoes, green chillies and coriander. We also call it the vegetarian omelette!
Aatey jo Chilro is a wheat flour cheela or crepe. It has a unique flavour and normally enjoyed with ketchup.
Accompaniments to these are not mandatory, but definitely enhance the meal, so I have served
Dharan ji Chutney ( coriander chutney )
Aamban jo Murabo ( mango chutney )
Boondi au Mehan jo Matho ( apple gourd and boondi raita )
Sindhi Aloo ( a total must for breakfast )
Ketchup ( store-bought )
Well, we Sindhi's do have some very interesting breakfast variations which are globally popular.
And then some flatbreads which are made during the Thadri Festival  –
Today's breakfast Platter is the fourth platter under The Thali and Platter Festival and for today I shall be sharing the recipe for Aatey jo Chilro.
Let's look at the Thali's I have posted so far for The Thali and Platter Festival-
Week 1
Everyday Thalis
Week 2
Regional Thalis
Day 6 Parathe wali Gali ki Thali
Day 6 Kaddu ki Khatti Meethi Sabzi
Day 7 Sindhi Meal
Day 7 Sev ka Raita
Day 8 A Meal from Kerela
Day 8 Nadan Urulaizhangu Curry
Day 9 Chettinad Wedding Spread
Day 9 Potato Masala
Day 10 Bengali Vegetarian Thali
Day 10 Anarosher Chutney
Week 3
Platters
Day 11 Gujarati Farsan Platter
Day 11 Dudhi na Muthiya
Day 12 Pakora Platter
Day 12 Stuffed Whole Onion Pakora
Day 13 Chatpati Chaat Platter
Day 13 Chatpati Chole ki Chaat
Sindhi Breads
Sindhi Breads are a variety of flatbreads that a Sindhi family cooks day to day . Here these have been served together to form a breakfast platter .
Notes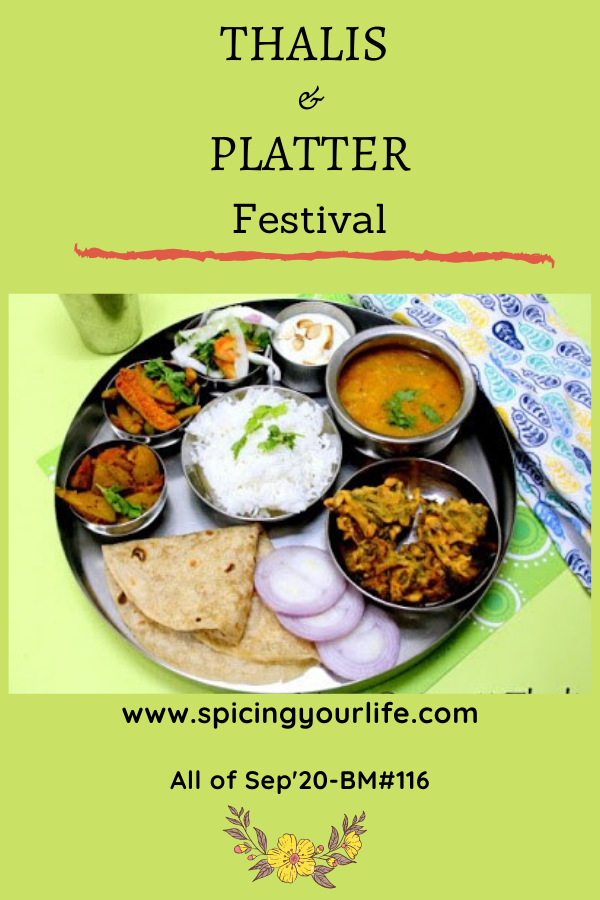 Check out the Blogging Marathon page for the other Blogging Marathoners doing BM#116